Podcast: Play in new window | Download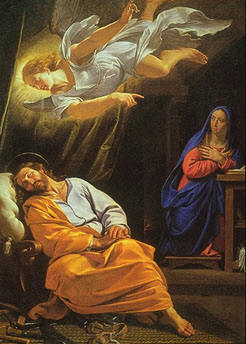 Readings: Isaiah 7:10-17; Psalm 24:1-7; Romans 1:1-7; Matthew 1:18-25
Listening skills are essential for any relationship.  Listening is more than hearing.  It is more than being able to repeat what the other person says.
Are we willing to listen?  I mean, really listen.  Consider the implications if Joseph was not willing to listen to the messenger of God.
Joseph had genuine concern
He resolved, made up his mind, to put Mary way (divorce) quietly.
Many of was want God to speak to us. Are we listening to what God has already revealed?
Consider who God spoke to directly throughout history. Consider the role that each played in God bringing about his plan of salvation for the whole world.
An angle spoke to Joseph. Consider that Joseph has already been listening to God via the revealed word in the synagogue.
A key and pivotal moment in history.
Joseph was given a dangerous mission. King Harod would not look kindly on another claim to the throne.
God first speaks through Scripture
Are we listening?
In Revelation: Those who have ears to hear, let them hear.
Will we listen and receive? Are we willing to listen to the Apostles, to Paul, Peter, James, John and the others?  Are we willing to listen to words and actions of Mary, Elisabeth, Ruth and the other great women of the faith?
Will we listen to the millions of voices throughout church history? Voices from Clement, Augustine, Ignatius, Teresa of Avila, Mother Teresa and countless others.
Perhaps God does not speak more directly to us because we have not listened to God's revealed Word.
What is our role in the plan of salvation? Are we willing to take a risk for God, as Joseph did, to bring the knowledge of salvation to our families and communities?
If we are willing to listen, as Joseph was willing to listen, a world will be opened up to us that goes beyond our expectations.
Study, pray, share.
Painting: The Dream of Saint Joseph By Philippe De Champaigne, 1643