Podcast: Play in new window | Download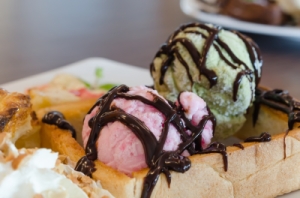 It is clear that most on a western diet eat too much.  Why?  Could we really be addicted?  If so, what can we do to gain freedom?
In today's episode we will:
Introduce step 3 and 4 (add/subtract/add)
10+ words to avoid on a label or in baked goods
Examine food addiction: fact or fiction
What we can do to break the cycle
We are walking now!
Our first step/movement was more like a crawl.  We added proper hydration—water.  We subtracted sweet drinks.  Then we crawled a little faster by adding herbal teas and reducing then removing caffeine.  Now it is time to get moving a little faster!
This add, #3, is optional.  It also depends on how well your sugar is controlled.
Add #3: 1 serving of low glycemic fruit
A serving size is typically ½ to 1 cup or ½ to 1 medium fruit.  In general, the more ripe a fruit is, the more sugar it contains.  Consider including a serving of fruits:
Granny Smith Apples (80 g, about a ½ medium apple)
Strawberries
Blueberries
Blackberries
Raspberries
Cherries (about 10-12 cherries)
Pomegranate
Grapefruit (½ red or pink grapefruit)
Pears (½ pear – not too ripe)
No sugar added!  Fresh is great.  Frozen is fine.  I like to get a bag of of frozen organic berries, cherries and pomegranate from Costco and just eat them frozen.
Monitor your sugar levels!
Subtract #3: Sugar (processed sugar)
Eliminate any packaged, baked or processed food that contains sugar.  Look for the following or similar words on the labels:
Sugar
High fructose corn syrup (or HFCS)
Corn Sugar
Corn Syrup
Sucrose
Glucose
Fructose
Maltose
Dextrose (many other words ending in –ose)
Maltodextrin
Artificial sweeteners, such as aspartame, saccharin, sucralose and others, are not good alternatives.  Many artificial sweeteners have harmful metabolites.  Also, they do not help us break the sweet addiction.
Add Activity #3
Walk an extra 5 to 10 minutes.  Working your way up to 30 minutes.
Add #4: A half pound of fresh salad vegetables every day.
Organic is great.  However, conventional is still good.  Get whatever you can find and afford.
Here are a few ideas to get at the store or farmers market:
Green Leafy Goodness:
Kale
Bok Choy
Swiss Chard (or other chard)
Arugula
Spring Mix
Spinach
Romaine
Butter lettuce
Red lettuce
Red Cabbage
Green Cabbage
Other Vegetables to consider adding:
Bell Peppers (green, yellow, red, purple)
Broccoli
Cauliflower
Carrots
Radish
Celery
The next three are technically considered fruits.  For our purpose, they are more like vegetables.
A half-pound may sound like a lot.  But it may not be as much as you think.  Consider the pictures below:
It is important to eat some healthy fats with the salad.  The fat greatly increases the absorption of some of the micronutrients.  Nuts, seeds and avocados are good ways of getting healthy fats and adding additional nutrients at the same time.  Oils can also add the needed fats.  But they are not a rich source of many micronutrients.
Currently I usually eat about 1 lb. of fresh salad vegetables for lunch.
Dressing Up the Salad.
This is where a lot of people get into trouble.  One tablespoon of an oil based dressing has at least 120 Calories.  That is more than the veritable.  And who only uses 1 tbsp.?  So be careful.
If you must use a dressing, pick one without sugar or high fructose corn syrup.  Dr. Joel Fuhrman, the author of Eat to Live, recommends making your own dressing from nuts, seeds, and fruits.  He has some awesome dressing recipes.  This is not difficult to get done on a regular basis.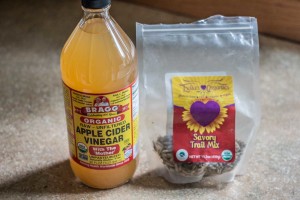 This is what I usually use for my lunch salad dressing:
1 to 2 teaspoons apple cider vinegar
A handful (about ¼ cup) Seeds and Nuts. I like the "Savory Trail Mix" by Lydia's Organics.
Dried (or fresh) herbs (dill, parsley, oregano, or Italian seasoning)
If you must have the oil consider the following:
1 to 2 teaspoons (40 to 80 Calories) extra virgin, cold pressed, olive oil (flax or hemp oil are also good choices)
1 tablespoon apple cider vinegar
Dried herbs
Add Activity #4
Once you reach 30 minutes of walking, try and pick up the pace.  Try to walk farther in the same amount of time.  [Provided your healthcare provider says you are ok for increased activity.]
Food addiction: Fact or Fiction
Do you keep eating even when you are full?  Do you crave sweets, fats, or salt?  Are you consumed by thinking about food?  Do you ever eat until the point of feeling ill?
It is not only an over eating problem.  It can also be under eating.
What happens when we extract and concentrate one part of a plant?  Consider cocaine…  Consider table sugar….
The brain reacts to sugar, alcohol and cocaine in a very similar way.  Dopamine, a neurotransmitter associated with pleasure, is released when we ingest sugar, cocaine, or alcohol.  The more sugar we eat, the more sugar we need for the same level of dopamine release.  In other words, we need more sugar to get the same amount of pleasure.
The natural sweetness of whole foods stops being enough.  We end up chasing the pleasure by eating more and sweeter stuff.
Yale University researchers have developed a food addiction questionnaire.  However, most of us do not need a questionnaire to recognize the problem.
CBS News, 60 Minutes, had a show on sugar which included a small part on addiction.  Jump to 9:45 to go the the part on addiction.
What can I do break the addiction?
Reprogram your brain to think differently.  This takes time and effort.  Read books and blogs on healthy eating and living.  Listen to podcasts or other recorded series.  Start to fill your mind with positive life-giving truth.
Consider cutting out the addictive substances.  You can do it all at once.  Or you can do it in a step-wise approach.
Get support: friends, coworkers, family members, support groups can help provide the positive pressure we may need from day to day.  Some may need the help of a counselor or therapist.  Others may find the additional help from a 12 step based support group such as…
Pray:  Ask God for help.  Then accept the help that is offered.  Some churches offer support groups.  Perhaps it time for you to start one in your church.
You can overcome!  If at first you fail, so what?  Keep getting up.  Keep trying.  Keep adding new resources.
Additional Resources: