Podcast: Play in new window | Download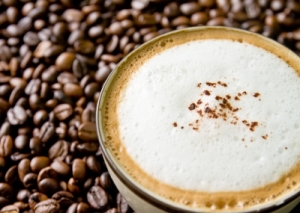 In today's episode we will discuss:
What we have accomplished this far.
Step-by-step or all at once…
Why I love medical professionals.
The Second Add/Subtract/Add
The affect caffeine has on insulin and blood sugar
Discover some tasty hot/cold drink options
Exercise: Talk with your health care provider.  Some things to consider: kind of medication, blood sugar levels,
What have we accomplished this far?
We have ensured we are well hydrated by adding water.  We have also decreased the amount of sugar intake by eliminating sweet drinks.  And we have slightly increased our activity by standing 10-30 min. per day.
Step-by-step and all at once…the decision is yours…
Some may be ready to jump right to a full vegetable juice fast.  This is a way to get things moving quickly.  However, I do not recommend that people jump straight to a juice fast.  We must be physically and mentally ready to handle the radical bodily changes.  We should also be educated on how to handle the changes in relation to any medications and diabetic reactions.  That information is highly individualized and your healthcare provider should be involved.
As with all that we say and do here, the choice is ultimately yours.  I am sharing my experience as a diabetic and one who enjoys seeing both diabetics and non-diabetics gain healthy lifestyle habits.  The ideas presented here have worked for me.  They are presented in this order to help minimize the normal effects of cutting out sugar, caffeine and other common substances in the standard modern diet.
Why I love medical professionals:
Doctors, Physician Assistants, Nurse Practitioner and other licensed healthcare professionals play (or can play) a vital role in our health and recovery.  In modern times they are particularly good at urgent care.  It is likely that doctors and medicine saved my life during a heart attack.  It is also likely that standard practices and care helped put me in the condition to need the emergency intervention.
Doctors and other health care professionals are a valuable resource for us.  Seek out those interested in you maximizing your health and not simply managing your disease.  There seems to be an increasing number out there interested in working with you for your health.
Develop a relationship with your provider.  Express you desire to regain and take control of your health.  Many are willing to work with you.
Some have just become cynical and actually do not believe that you are capable of following through on a healthy lifestyle.  If they are not truly supportive of your healthy decisions, it may be time to look for a new provider.
Crawling a little faster…  The second Add/Subtract/Add
Add: Herbal Teas
(Note: some herbal teas can have impact on medication.  Do your research.  Don't be afraid to ask a dietitian or pharmacist)
There are many to choose from.  I recommend organic whenever possible.  I suggest no sweeteners of any kind at this point in the process.  Nevertheless, pure stevia extract may be a safe, if not beneficial, option.
Many teas contain powerful anti-oxidants, small amounts of minerals and other micro-nutrients.  Even with the goodness they contain they should still be used in moderation.
Here is a list of favorite herbal teas:
(The teas are linked below to my Amazon affiliate account.  If you want to buy them from Amazon I would appreciate you using these links.  If you can find a better deal elsewhere, go for it! Note: price/teabag as of original publication)
There are many more!  These are just a few that I enjoy.  Warm, hot, or cold, these are a good way to start or end your day.
Subtract: Caffeine
Caffeine is a moderately addictive stimulant.  It is also considered the most wildly consumed drug.  It can temporarily boost our thinking abilities and make us more alert.  That is not all bad.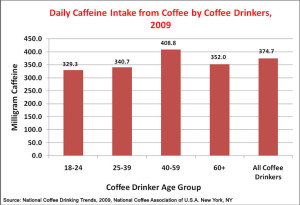 How much are we consuming?
According to a 2009 National Coffee Association report U.S. adults coffee drinkers consumed an average of 374.4 mg of caffeine daily.  More than two-thirds from coffee.
What is considered a safe amount?
For healthy, non-pregnant, adults 400 mg per day is generally consider safe for healthy individuals[3].  However, this amount was used in the studies referenced below and caused decreased insulin sensitivity in healthy people.  Diabetics seeking to regain control over their health should consider eliminating caffeine at least until it is under control.
Most of our caffeine comes from coffee, tea and about 20% comes from carbonated beverages.  Chocolate is a food source of caffeine.
How does it affect diabetics?
Caffeine decreases insulin sensitivity from 15%[4] to up to 35%[5].  The effects of daily caffeine consumption in insulin sensitivity can last for at least a week.  In other words, it magnifies insulin resistance.  Something we do not want.
Science Geek Minute:
Caffeine stimulates the production of catecholamines[6].  The three most abundant in humans are:  epinephrine[7] (adrenaline), norepinephrine and dopamine.  Our body makes them by combining phenylalanine and tyrosine (two amino acids – the building blocks of protein).  These are essential hormones.
Caffeine has been found to increase levels of epinephrine (adrenaline) and norepinephrine.  These are involved in the fight-flight response.  These hormones are made in our adrenal glands.  Some believe that the artificial over stimulation of the adrenal glands can lead to these important glands becoming fatigued.
Reducing and eliminating caffeine:
Caffeine elimination does not have to be a lifelong situation.  However, as we are getting healthy, we do not need anything to get in the way of our progress.
Caffeine is addictive and many who quit, experience withdrawals.  Headaches, fatigue, and irritability are commonly reported.  Some report flu-like symptoms such of muscle pain, nausea and even vomiting.
The withdrawal symptoms typically last 12-24 hours.  However, they can last several days for heavy caffeine consumers.[8]
If you drink a lot of coffee or other sources of caffeine you may consider a step-wise decrease in consumption.  Perhaps cutting intake by ¼ to ½ for a couple of days then taking it down another ¼.  Those who only drink a cup or two may consider going cold turkey.
Whatever path you choose, remember to add in some healthy herbal teas.
Add:  10 Minute Walk
Please check with you healthcare provider.  I know I have said it before.  This is important.  Schedule a physical and discuss your plans.  Remember, they are there to support you.  They also may have some insights into some complex factors.
Take a short walk at whatever pace you can safely sustain.  When I started, it was about a 5 to 10 minute stroll.
Some may have difficulty, or not feel safe, venturing away from the house.  Perhaps starting with 10 minutes of pacing or walking throughout the house is a good place to start.
Some may already be ready for a 30 minute brisk walk.  Go for it!
Question: What herbal teas do you like the best?
References:
[1] Holy Basil (Tulsi) http://www.webmd.com/vitamins-supplements/ingredientmono-1101-holy%20basil.aspx?activeingredientid=1101&activeingredientname=holy%20basil
[2] Information on the herb Gynostermma, http://en.wikipedia.org/wiki/Gynostemma_pentaphyllum
[3] Mayo Clinic: http://www.mayoclinic.org/healthy-living/nutrition-and-healthy-eating/in-depth/caffeine/art-20045678
[4] Keijzers, G, "Caffeine Can Decrease Insulin Sensitivity in Humans", Diabetes Care, February 2002 http://care.diabetesjournals.org/content/25/2/364.short#
[5] MacKenzi, T, "Metabolic and  hormonal effects of caffeine: randomized, double-blind, placebo-controlled crossover trial", Metabolism December 2007  http://www.ncbi.nlm.nih.gov/pubmed/17998023
[6] http://en.wikipedia.org/wiki/Catecholamine
[7] http://en.wikipedia.org/wiki/Epinephrine
[8] Juliano, LM, "A critical review of caffeine withdrawal: empirical validation of symptoms and signs, incidence, severity, and associated features.", Psychopharmacology, October, 2004, http://www.ncbi.nlm.nih.gov/pubmed/1544897